What is a Dive Mask?
A dive mask is a piece of underwater equipment that allows scuba divers, freedivers, snorkelers, and swimmers to see clearly underwater ,while protecting their eyes from direct contact with the water.
Types of Diving Masks
Information about single window masks, double window masks, full face dive masks, wide view masks, prescription lens masks, masks with LCD displays, and other types of diving masks.
Articles About Dive Masks
- Wikipedia Introduction to Diving Masks
- Deep Ocean "Underwater Vision" Article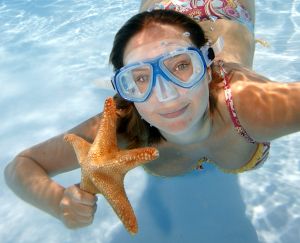 Our Dive Shop
Masks
Fins
Snorkels
Manufacturers
Mask Makers
Fin Makers
Snorkel Makers